The Importance of Data Collection & Storage to the Wind Industry
Ever since the global wind power industry began, it has suffered more than its fair share of resistance. Bird and bat safety, visual impact, shadow flicker and noise have all been cited as reasons why wind turbines are a blight on the landscape and, God forbid should one fall in high winds.
Unfortunately, on December 24th 2015 a three-year-old wind turbine collapsed across a road at the Lemnhult wind farm in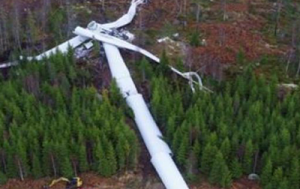 Sweden. The road was only for access and nobody was injured or killed but the image shows the devastation and provokes a sobering thought about what may have happened were the turbine in another location.
Swedish officials have pointed to incorrect bolt installation as the root cause of the collapse. Government accident investigation authority SHK said there were clear signs of fatigue and corrosion at the join between the bottom and second section of the tower, because "the pre-tension force in the joint was too low". It was also suggested, that the installation contractors were not experienced in the use of the hydraulic torque tools used.
The more recent trend for offshore wind farms has negated some of the objections however, the need for overly frequent servicing due to incorrectly tightened bolts, has a far higher cost impact due to access challenges. The recovery costs, were a turbine to collapse offshore, is also considerably higher than their onshore counterparts. Thankfully to date, all offshore wind turbines remain standing and long may that last.

Although we can't solve the bat and bird issues here at Torq-Comm, we can ensure that that the tower, nacelle and blade bolts are tightened, in the correct sequence, and to the correct load, every time. Our Commander XT systems lead the operator through the bolting process, and ensure exactly the right pressure is applied to the tools by the torque or tensioner pump. The data can be monitored in real time, anywhere in the world (by the turbine manufacturers technical staff for example), and no matter how senior the personnel, the data gathered cannot be manually input, or modified in any way.
Another great example of how this cutting technology is making our world a safer place.