Torq-Comm Appoints Master Distributer for Western Europe
We are delighted to announce, that we have appointed Power Bolting Systems, based near Newcastle upon Tyne in the North East of England, as our Master Distributor for Western Europe. Although a relatively new player in the industrial bolting sector, the individuals behind the company most certainly are not. Between them, they have decades of experience and understanding of the bolting industry. Read more about how partnership enables us to provide the users with world class service and quick delivery here.
Introducing Our New Exodus Cloud Based Software
We are delighted to announce the release of our all new Exodys cloud based software. Here is a list of the key points that make it our best, most user friendly software ever.
Brand new user interface
User friendly dashboard
Full control of event based traceability fields
Package duplication speeds up multiple jobs
Project function allows collation of multiple jobs
User groups allow control of access to data
McDermott to Provide BP Trinidad & Tobago with an Unprecedented Level of Joint Integrity Assurance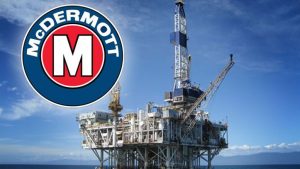 Nobody can dispute the importance of integrity assurance on critical industrial joints, particularly those on offshore installations. In order to avoid dangerous accidents, leading to injury or worse, destruction of assets, damage to the environment and to global corporation's reputations, all key critical joints should be 100% guaranteed tight and leak free. The multi-billion-dollar question is "are they?" and unfortunately in too many cases, right now the answer is "we're not sure".
So, when a responsible organisation like McDermott saw an opportunity to provide their client BP Trinidad & Tobago with a level of integrity assurance never seen before, on a new platform, they obviously jumped at the chance.
McDermott has been awarded a detailed engineering and long lead procurement services contract from BP Trinidad & Tobago, LLC (BPTT) for the Cassia C Compression Platform, located 40 miles (65 kilometres) off the southeast coast of Trinidad and Tobago. The contract follows McDermott's award for the engineering, procurement, construction, installation and commissioning (EPCIC) contract for the Angelin project by BPTT last year.
The Cassia C Compression project includes a new unmanned compression platform for the existing Cassia complex. The facility will provide gas compression to the Cassia complex via a new bridge connected to Cassia B. Cassia C is BPTT's third Cassia platform, handling gas coming from its operations in the prolific Columbus basin.
McDermott has purchased three Torq-Comm Commander XT bolting data collection and storage, hardware and software systems through Trinidad based distributor, Surialke Marketing and Industrial Services Ltd, initially for use on the Cassia C project, but also to form the core of a new, more up to date and reliable QAQC system for all future projects.
Engineers Sarita and Vanita Simbhoo, recently visited the McDermott facility in Mexico to conduct operator training. The McDermott team was clearly excited to begin using these units and to set a new benchmark in joint integrity assurance. It really is only a matter of time, before this technology is adopted by everybody involve in critical joint integrity assurance, making our offshore installations safer and more reliable.
Portable and Easy to Use – An Illustration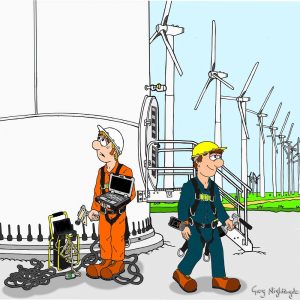 We recently commissioned British artist Gary Nightingale to produce this cartoon for us. As well as being a bit of fun, it also illustrates really well, just how portable and easy to use our Commander handheld devices are compared to other data collection systems.
Certainly in the wind industry, where technicians are often required to take their equipment up to the nacelle of a wind turbine, the Commander comes into its own being just six inches long and weighing a few ounces.
Other systems can include heavy pieces of equipment, wires and hoses all of which can hinder the process considerably.