Quantum Leap – March 2019
A Cost-Effective Solution for the Service Manager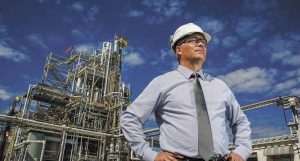 Meet Jim, he is the service manager for a US based petrochemical plant. His job is to plan and manage maintenance schedules, to ensure maximum productivity, as well as the highest levels of safety for personnel, the public and the environment. He also must react to unplanned maintenance requirements, if a part of the plant breaks down.
As you can imagine, this can be a very demanding job with times of extreme pressure. An additional challenge for Jim over recent years is that his maintenance budget has been cut as the price of oil dropped from $120 a barrel to $50. Despite the cuts, Jim still must ensure the high levels of safety and reliability are met.
He had done a great deal to control his costs, including short term rental of specialist tooling and equipment during both planned and unplanned maintenance. This was more cost effective, not only because it was less than an outright purchase, but also because he didn't have to worry about storage and maintenance of the tooling and equipment.
If that wasn't enough, the standards specific to bolted joints had become more rigorous, in the face of industry incidents involving the release of product from closed systems. In a high number of cases, the releases were following system maintenance, when the joint had not been correctly tightened. Jim's challenge from the plant owners, was not only to ensure that each nut was tightened to exactly the right torque level, but also to record data for future reference.
Jim and his team reached out and found Torq-Comm who could provide everything he needed to satisfy the plant owners requirements (and then some). With the Commander XT system, the bolting technicians were provided with the correct bolting sequence and torque levels by way of electronic work instructions via a rugged handheld device. As each bolt was tightened, the Commander recorded the torque and sent it directly to the cloud based flange management software, with no human intervention. Jim would be able to literally, sit in his office and see each bolt being tightened but even he, could not manipulate the data in any way ensuring the data collected, was the data stored.

Jim was delighted with the system, it was exactly what he needed but, hang on, there's nothing in his budget to buy new equipment and he didn't want the storage and
maintenance responsibility for it. If only he could rent the Torq-Comm system………he can! Some of the world's major equipment rental companies have invested in a stock of Commander XT systems as they can see the inevitable growth of a requirement, to use it to meet ever tightening regulations.
Needless to say, Jim rented the equipment along with his hydraulic torque and tensioning tooling, giving him a cost-effective solution to his challenge.
2019 Energy Conference Hailed a Roaring Success
Torq-Comm Latin American distributor, Surialke Marketing and Industrial Services Ltd, took part in the 2019 Trinidad & Tobago Energy Conference and Trade Show in Port of Spain, Trinidad this month. The company has grown considerably recently and is now a leading player in the regions energy sector. As well as the Torq-Comm Commander range, they supply complimentary bolting and flange working products, as well as offering site services too.
During the three-day event, the company saw a massive amount of interest in the innovative Commander XT system and expect the follow up process to generate considerable business in the coming months.
Torq-Comm CEO, Paul Iannello attended the event and commented; "I was genuinely taken back by the level of interest generated. The whole Surialke team is extremely professional and passionate about what they do. These are extremely exciting times for all concerned".
The interest generated extended right to the top, as the Prime Minister and Minister for Energy for Trinidad and Tobago visited the companies stand. They specifically requested a photo opportunity with the Surialke team who obviously were happy to oblige.
As the momentum continues to grow for this exciting new product range, forward thinking professional organisations will continue to fly the Torq-Comm flag, developing interest globally.